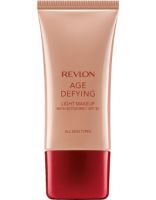 WHY OH WHY DO THEY DISCONTINUE THE BEST PRODUCTS??!!

THIS MAKEUP WAS THE BEST I'VE USED IN 25 YEARS OF WEARING FOUNDATION. IT ALWAYS APPLIED NICELY NO MATTER THE CONDITION OF MY SKIN THROUGHOUT THE SEASONS. I HAVE TRIED TO FIND A PRODUCT LIKE IT AND HAVE HAD NO SUCCESS WHATSOEVER. I WISH I WOULD'VE BOUGHT 30 TUBES WHEN IT WAS STILL AVAILABLE!!!! SO SO SAD

Even, natural coverage

I like this foundation a lot. It smoothes on evenly and looks completely natural. It does not settle into fine lines like other foundations, which is a HUGE plus. The high SPF rating (30) is also a positive. I'd give it 10 stars, except that it is not sweat-proof and could offer slightly more coverage. Otherwise a wonderful product for everyday use.

Revlon Age Defying

I love this product with its high SPF. My face looks fresh, though I may touch it up in the afternoon if I'm going somewhere after work. I don't believe that it makes a difference regarding wrinkles, yet is a good value.