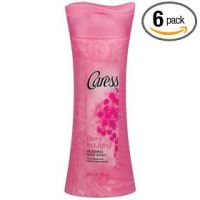 Works Wonders on Skin!

I don't believe I've ever reviewed a body wash so today I want to share with you my all time favorite body wash brand; which is Caress. Time and time again I re-purchase this body wash for the simple fact that it is amazing, and literally no other body wash brand can compare to it. The Caress line not only comes in liquid form, but also in bars as well; I've never tried the bars of soap so I wil...read morel only be talking about their liquid body wash. They come in 3 different categories which are Exfoliating, Silkening, and Fine Fragrance. I've tried several Caress body washes from each category and I love them all. The exfoliating, silkening and fine fragrance line all moisturize the skin, leave the skin feeling clean yet refreshed, and give your skin a healthy glow to it. I would recommend any of these body washes, depending on which fragrance you prefer and whether you need/want exfoliation: Evenly Gorgeous --The exfoliation comes from brown sugar and karite butter. Tahitian Renewal -- The exfoliation comes from pomegranate seeds and Tahitian palm milk. Daily Silk -- Contains white peach and silk blossom. Glowing Touch -- Contains Shea cream and skin brighteners. Endless Kiss -- Contains creamy vanilla, sandalwood, and moisture beads. Velvet Bliss -- Contains blackberry and vanilla infused with silk fragrances. Passionate Spell -- Contains the scent of passion-fruit and fiery orange rose. Sheer Twilight -- Contains black orchid and juniper oil. Scarlet Blossom -- Contains red lychee and patchouli. I believe I've tried almost all of them, and I generally will alternate or switch between a few because the scent of each line is amazing and quite honestly I have a hard time picking just one! Not only does my body feel so smooth, the lovely scent lingers way after you take a shower but it's so subtle that it wont bother even the most sensitive person. I generally buy the Caress body wash at my local target, which retails for $3.99 for an 18 ounce bottle; it is pretty affordable for the size of the container (and definitely worth it). This body was can also be purchased at local drugstores such as Walgreen's and CVS.

Great

Smells great, feels great, makes skin soft, price is right. A winner!

21 Best Soaps

Exclusively from the editors at Total Beauty

Get the Buying Guide to see these top-rated products!

Get it now »

I Love Anything That Smells Like Berry!

And this is no exception. It lathers up really nicely, and smells absolutely divine! Like other Caress Body Washes, it leaves my skin feeling soft and wonderful. Highly recommended.

Back
to top