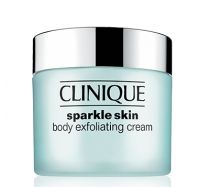 Shine Away

This cream leaves you looking and feeling positively radiant!

Say Good Bye to Crusty Elbows & Heels

I cannot believe that I have not reviewed this exfoliating cream until now. I have been using this for years, and I love it so much. I have tried other body exfoliating scrubs, sometimes just to change fragrances, but I always come back to this one. The scrub beads are not rough, just perfect for buffing and polishing skin. It leaves my skin smooth and less flaky, and the minty scent is refreshing...read more. The tub is quite large so it is well worth the price. Absolutely the BEST! If you have sensitive skin, try this on elbows and heels first.

use b4 tanning

i always use this right before tanning to achieve a smooth looking tan. This helps keep my skin soft and less bumpy.

Back
to top