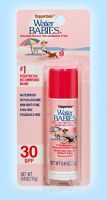 Great for lips

I use this all summer as a lip balm (yes it is like a giant chapstick!) I use it directly on my eyebrows as it won't run into my eyes from sweating. I also apply it above my top lip as it won't sweat off as easily, to prevent a moustache shadow where my sunscreen sweated off & I got a little tanned there. I like keeping one in my purse as an emergency sunscreen.

LOVE THIS STUFF

I have been using this sunscreen stick on my kids for years. I also use in one my own face. It is a little greasy and thick but I think it is a good thing (the thick part anyway). I have only really used it when it was warm out and so I haven't had a problem rubbing it in. The only problem I really have with it is my kids thinking it is a giant tube of chapstick.

Easy to use when warm

This product is easy to use if it's relatively hot outside, otherwise it can be kind of hard to rub over the face. It's great for the beach! You must reapply after everytime in the water or 20 minutes of sweating. It could be cheaper.

Back
to top