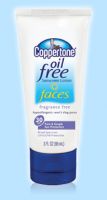 SPF 50 Version

I have this exact sunscreen in the SPF 50 version and I think I will be going back to the Sensitive Skin line for faces by Coppertone. It didn't bother my skin but it did bother my eyes A LOT. My skin is oilier and by mid day the oil would cause the sunscreen to get into my eyes and it burned like crazy. This went on for about a week until I realized it was the sunscreen. I never would have though...read moret that a sunscreen specifically for faces would ever do that. I was avoiding the eye area but the oil caused the sunscreen to transfer. What I ultimately did was switched to a moisturizer with a SPF30 in it and have since had no issues. I am now using the rest of this tube on my arms before going outside, rather than my face. The sunscreen itself is good but didn't work for me.

I have rosaces and dermatis- love this lotion!

I have rosacea and dermatitis and sting in cold , extreme hot, and dry weather. This lotion absorbs in to the skin so it's not greasy. It's very light and I don't break out from it. I actually use it daily and leave it on at bedtime. It works well for protecting me from sunburn. I love it. The titanium dioxide in OTHER foundations and sunscreens make me it and are very drying. This is the best I have found and cheap.

Great product.

I have some scars on my face that I try to protect from the sun so they don't get darker. This is a great product. It does what it says, and it's not too heavy like other sunscreens.

Back
to top