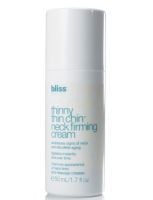 Crazy good!

I received four large samples of this from Sephora and I'm going to buy this on my next trip to Sephora! I'm young and my skin is still firm, but I'm a competitive swimmer is sunny Cali, and I have to start prevention early. After using up the four large samples of Thinny Thin Chin, I can safely say: this works! I noticed an improvement with my neck and cleavage lines, plus my skin felt firmer and more vital! I hope this helps! :D

Miracle Worker

I absolutely love this product, I use it on my jaw, neck, chest and underarms to instantly lift and reduce wrinkles. It takes years off an area that is the tell-tale of aging, and also works great on sagging cheeks and eyes. With 30 around the corner, this product keeps me in my twenties ;)

One Thumb Up...

I received a sample of this product. It was a fairly large sample, as sample sizes go. I've been using it twice a day for three weeks. I have yet to notice any difference in my skin tone or texture or firmness. So, maybe I haven't been using it long enough. However, I have to say that the scent is absolutely heavenly! The lotion is super light and spreads well over your skin. A very little ...read morebit goes a long way, so you would definitely get your money's worth out of a whole bottle. I think it makes a great moisturizer for day and night. So, while I am not 100% convinced that it lives up to it's claims, I still think it's a great product.

Back
to top