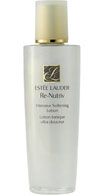 Heaven on a Cotton Ball

I received a sample of this with a purchase and I am in love! Not only does this product deeply cleanse your skin but it leaves it so soft, you almost don't feel the need for moisturizer. The scent is heavenly, as is all the products in the Re-Nutriv line. It also seems to have teeny tiny flecks of gold in it that make the skin look luminous. I love this lotion and as soon as my sample runs out, I am treating myself to a bottle. And that will be treating myself very well!

This lotion is wonderful

This lotion is great at hydrating my oily skin after cleaning it and not leaving it feeling greasy or oily. I really like this product.

Estee Lauder

Estee Lauder Softening Lotion smells great and really makes my skin feel soft.