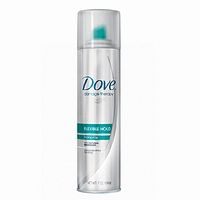 PSSSSSST...

I need aerosol for the main reason of control. I feel that if I'm styling my own hair that pressing a small button lightly and dispersing a fine mist of product is easier than having a difficult time trying to press the plastic bottles over and over to get it where I need it to be. I didn't experience any super stiffness or flakiness from this hair spray which immediately got me to like it but w...read morehat go me to love it is adding volume to my hair like mousse or thickening gels without making it feel like a mountain of product on my scalp. There is so much product for the price and scent is great - light and almost powdery. At the end of the day, my hair was still bouncy and full of life and the best part was not feeling that grip of hardened glue on my hair. This sets any style without affecting the shape or condition of the hair which is a must for a styling product.

Dove delivers

This hair spray offers the best of both world, hold without the crunchy after effects. Be mindful not to use so much because they things get steered south but otherwise a great spray. My only complaint would be that it's still a little tough to run your fingers through your hair so it's not quite perfect yet but I would say its pretty awesome for the price.

Really Discontinued?

I just saw this on the shelf. I love hairsprays that are flexible hold. This kept my hair in place with no stiffness. It smells amazing! It smells like old Dove products before they mucked with the scents. This is really an awesome flexible hold hairspray.

Back
to top