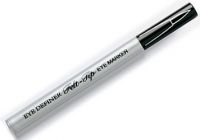 Editor's Rating & Review
Mastering the art of liquid liner is a sweat-breaking, arm-aching chore, but using this "marker" makes the learning curve less grueling. The fine, stiff tip allows you to lay down a straight line without losing control and straying out of line. And it gives you the creative power to make the line thick or thin. One caution: avoid going over the same line twice; it will scrape off some of the original liner. Otherwise, it's genius.
Reviewed by Kristen on 10/03/2007

How we review products
Works well

This eyeliner is so easy to use, it would be great for a beginner. It's so easy to go thin or thick with this marker like pen.

Precise Liner

This liner is great for making precise thick or thin lines. The color goes on dark and smooth for a dramatic look. I like the angle and thickness of the applicator which makes it so easy to use.

Great for newbies

This liner is heaven sent for those of us who have yet to master the art of liquid liner and small applicators. The color goes down in a solid line and because it's just like a pen, it's easy to control where you are putting that line. Make sure you put this on before shadow, or you might as well use a pencil liner. Once it dries it stays in place without fading or flaking until you remove it wit...read moreh cleanser. Only two shades available - brown and black - which makes this loose a couple stars since there is NO variety.

Back
to top