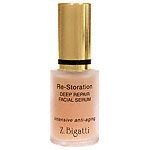 Z. Bigatti Re-Storation Deep Repair Facial Serum
As low as
Great product - everybody should try it

I bought this product through an online store for an unbeatable price of $170, compared to $198. I am using it for about 3 months now and I can really see and feel the difference. It is gentle on your skin and gets rid of the fine lines around your eyes and takes care of the wrinkles you might have. My skin feels smooth and soft and it makes me look younger (who doenst want THAT). This product is absolutly worth its money.

Re-store your youth

This Facial serum from Z. Bigatti is magnificent. It's gentle on your skin while it gets rid of wrinkles, fine lines and discoloration. It is sumptuous. You don't need to go to a spa to feel pampered if you use this product(adding more of the Z. Bigatti line-up furthers that feeling). Your skin feels hydrated, silky smooth. This serum also takes care of the other not-so-fun effects of growing olde...read morer and people will notice. After just using this for just a short time, people remarked on my skin saying that I was glowing. It might seem expensive, but as with all Z. Bigatti products a little goes a long way.

Back
to top