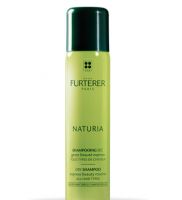 Great Product!!

I was impressed with this! I didn't know that products like this exist. It is good to have on hand. You never know when you will need it.

Works great but smells awful

This product works really well: it zaps grease without creating gunky buildup. It also seems to be colorless, unlike other formulas I've tried that are either tinted too darkly or leave white residue. Unfortunately, I found the smell terrible! When I first used it, my boyfriend asked me why my head stank. I also used it during a trip to the cabin, and all my family members agreed that it had a...read moren unpleasant odor. The smell dies away a little over time, so I have still been using it, but I'm going to keep trying other brands before going back to this one again.

Good! But I've come across others!

This dry shampoo gives my hair incredible volume and gets rid of 2nd-day oil, but it takes the shine of my hair with it and sometimes leaves a baby pink-cast on my dark locks. This is a GREAT dry shampoo as far as doing what it's supposed to do, I just wish they would improve the scent and the color of the powder.

Back
to top