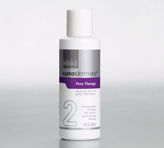 Obagi Pore Therapy
As low as
Amazing

I have always had really clear skin and I have been forever grateful for it. But recently due to either hormones or really hot/humid weather or lots of stress or a combination of both my t-zone broke out. So I did some research and came upon the obagi cleanser and pore therapy. It has really helped clear my breakput. It was not a fast process but after a month of daily use once a day my breakout h...read moreas cleared. Not only that but my oily t-zone caused lots of whiteheads and blackheads on my nose and chin which have also cleared. My skin feels smoother too. My mother who is in her 50's and has dry skin also wanted to use it and her skin feels and looks smoother (she had no pimples to begin with). Also her age spots and pigmentation are reducing. This product is pretty fantastic. I recommend trying it. But start slow because I started with twice a day as per the instructions and developed dry patches on my cheeks which are normal. So start with once in 2 days and then move on to once a day and so on.

not for mature skin

I have recently started breaking out, I presume due to hormones. I did eight months of the Obagi Nu Derm but my chin still had breakouts. I decided to try this Obagi kit and I must say it is much too strong for sensitive of aging skin. It would probably would great on older teens or twenty somethings. I found it to tear my skin up, while clearing it up. I worry about the long term effects of this product.

Exclusively from the editors at Total Beauty

Get the Buying Guide to see these top-rated products!

Get it now »

love it!

i love obagi! i tried obagi pore therapy for a night and after three days... THREE DAYS! my pores were all dry. i continue using it for about a month and i never ever get pimples again! i really recommend this product!

Back
to top