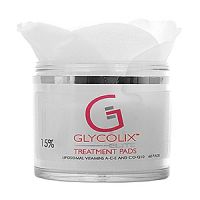 Glycolix Elite Glycolix Elite Treatment Pads 15%
As low as
Great Product

The treatment pads give your skin a great exfoliation, they sting a little bit but make sure to wash your face afterwards. They definitely help to shrink the pores and even out your complexion.

Too strong for most skin types

While this is an effective product and you can expect stinging I recommend a weaker strength. The Glycolix Elite Treatment Pads 10% are just as effective and much gentler on the skin.

Back
to top