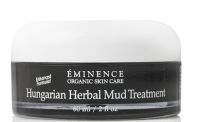 Mud

Quite pricey yet very effective. removes oil from my face.

This mask is powerful and amazing!!!

I recently decided to splurge and buy several of the eminence products for my combination acne prone, hormonal skin. I started suffering from cystic and pustule acne when I was in my mid 20's. I have developed numerous red scars due to this, and have tried EVERYTHING under the sun. I was very reluctant to purchase due to the price, but decided to go for it as my local spa where I purchased offered...read more a money back garauntee. I used this mask 2 days ago and they are not lying when they say it is HOT, HOT, HOT. I actually got scared by the redness and burning and called the spa, they assured me it was normal and that the redness would subside within 2 hours ( which it did ) This mask left my skin GLOWING!!! days later my skin looks AMAZING. ALL and I mean ALL of my acne is gone!!! The red spots from old acne has faded by about 30% already and my skin feels smooth, toned, firm and is glowing. I applied this with a brush and let me tell you a little goes a long long way. I estimate that with twice a week use this should last me at least 6 months, making it a very affordable product after the initial investment. I also purchased and am using the citrus lime cleanser, 8 greens moisturizer and 8 greens youth serum, and pear and poppy seed microderm abrasion peel. Overall if you can get past the burning sensation, and dont mind your skin being red for about an hour afterward you will love this product! I very rarely take the time to rate a product line, but this line has me in complete awe. and its all organic too! also this line has a very light organic smell, this mask smells like cinnaman!!! try it, you will not be disappointed. I only gave it 9 stars due to the price and the burning sensation while the mask is on.

Stimulating to say the least

I love this mask, it is definietly detoxifying. I always break out a little bit after using it (impurities coming to suface) but then I follow up with the tomato garlic mask, the combination really leaves beautiful skin. When you put it on, you will feel a slight burning sensation, but nothing unbearable. Your skin truly feels refreshed after this mask, it's great! Works good for acne and sensitive skin.

Back
to top