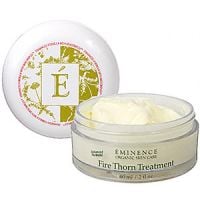 Eminence Fire Thorn Treatment
As low as
Repairing rescue treatment

Perfect for use after a peel or harsh exfoliation treatment. Really heals, moisturizes, and repairs skin.

Eminence Fire Thorn Treatment

I would like to agree with the comments made by the other reviewer. That being said, and rather then reiterate I would like to comment on how wonderful this treatment is for mature, dry, dehydrated, or devitalized skin. It is an Enriching, Regenerating & Revitalizing treatment. It is a thick cream, and if purchased in the traditional series, it is actually richer!! This is the PERFECT CREAM FO...read moreR Pregnant woman!! I suggest the traditional series for them, since it is thicker. Fire Thorn Treatment supplies the skin with vitamins, fruit acids, & trace elements. It helps the skin in the regenerative and repair process...which leaves the skin firmer and more elastic. This is wonderful for Pregnant Moms to be!! The cream keeps the belly moisturized, and irritation is reduced. What irritation you ask? Think about a day of elastic around your belly, about the itch. I also suggest adding either Calendula Oil or Yarrow Oil to massage in with the Fire Thorn.

Eminence Equals Excellence

Before I start the review of this particular product, I must express my opinion of the Eminence Company in general. Every Product I've ever used from Eminence has been of high-quality and effective in what it says it has to do. This company is very consistent in their products. This particular cream is a moisturizing "treatment". It can be used several ways. I switch off between thi...read mores product and my other night moisturizers. I use the Fire Thorn Treatment when I feel like my skin is in danger of going down the dry path. I say in danger because I don't actually have dry skin on my face because I use this product and other highly effective moisturizers, but after a microdermabrasion treatment or after being outside in the cold for a while, this is the cream that I use at night. Make no mistake, it is thick, creamy and somewhat greasy, but it absolutely will revitalize your skin and will not cause you to break-out because the ingredients are so natural. If you use it during the day as a moisturizer just apply less. Another great thing about this product is that you can also use it to spot treat certain areas on your face. During the day, I generally use a lighter moisturizer, but if I have a spot that I want to give extra moisture to I apply Fire Thorn to that spot. You can not go wrong with this company.

Back
to top