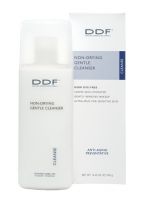 DDF Non-Drying Gentle Cleanser
As low as
My Favorite DDF Cleanser!

Out of all of the DDF Cleansers I am trying, I think this is my favorite. This is a thicker cream than the Cellular Cleansing Complex, and it coats my skin and seems to almost melt into my skin as it removes makeup and such. There is virtually no smell to this one, and I really appreciate how moisturized my face feels after using it. It is perfect for night time when more moisture is needed to lock in with a night cream overnight.

Lives up to the promise

I used this when I was having some major skin issues. It was a last resort, and it worked great. My skin chaged dramtically, and I loved the fact that my skin didn't dry out.

Finally the search is over

I cannot tell you how many products I have tried and how they have failed. I have super sensitive skin the kind that reacts to everything. On top of that I have dermatitis. And this does not bother my skin or cause any type of flare ups. This was suggested to me and was my last resort. And it is AWESOME! People are telling me how beautiful my skin is.

Back
to top