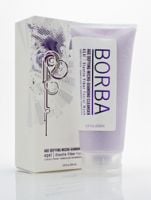 Great!

Highly recommend.

Borba Micro Diamond Cleanser

This product works by itself fine as a deep cleanser with a tiny bit of mild grains and citrus fragrance. I also used Borba Gel Toner and it only takes a little dab to liquify and spread over face. It's a No-Fail product. It can be pricey and has modern packaging. I got my start with a travel sampler of Borba from TJMaxx.

Love love love

I really love this cleanser. It doesn't strip my skin, yet removes makeup, dirt, and oil with ease. The scent is wonderful as well. I also really like that you only need a tiny bit, so although it's a bit expensive it's well worth it. Stumbled across this at TJ Maxx and have since fallen in love with it. Got it for $6 and figured I would give it a shot. I would pay the $25 though. It's never broken me out either, and I have very sensitive skin.

Back
to top