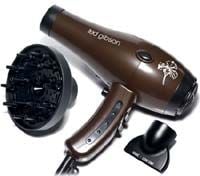 Editor's Rating & Review
The coolest (er, hottest?) thing about this dryer is its ability to get hot enough to style with, but it won't destroy your hair thanks to heat-radiating tourmaline. (Just be careful not to burn your scalp.) It's lightweight and should live a long life (or two) for that price. Similar dryers, like the T3 Tourmaline Ionic Featherweight, behave the same but cost slightly less. Just like a flat iron, a good dryer is worth the splurge.
Reviewed by Kristen on 12/18/2007

How we review products
Too expensive

As other reviewers have mentioned, this hair dryer is really expensive. Yes, it does a great job of drying and de-frizzing my hair, but there are lots of other dryers that do the same thing for much much less.

rediculously over priced

this works the same as any other hair dryer except it has different attachments. Save yourself some money and buy a cheaper one as it is NOT worth $300.00

not worth it

this isn't worth it. $245 for a hair dryer?!?! this is a great hair dryer, but unless your ready to shell out all that money, don't get it!

Back
to top