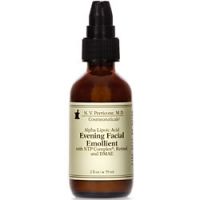 N.V. Perricone Evening Facial Emollient
As low as
A Quality Retinol Serum

Dr. Perricone's Nightime Facial Emollient Serum absorbs extremely well, diminishes fine lines and wrinkles, and increases skins radiancy. This is a high quality Retinol product and is worth the price.

Another favorite for me!!

I use this in combination with the Vitamin C Ester and just LOVE the results I get. Truly a beautiful glow and very soft and smooth skin. I get lots of compliments on my skin when using these two.

A must have before you go out

I love using this product right before I leave for a night out or when I want to give my skin a little jump start in the evening. I've never a used an OTC retinol product where I felt that the retinol was actually active. Right away, you'll notice your face seems tighter and plumper and redness is significantly diminished. Also, it takes shine away instantly and leaves a gorgeous glow. I think...read more this oil absobant feeling stems from its Retin-A - like texture reminding me of the "microsponges" in that product. That said, I've never used this product every night as my treatment product because I've found I have break out issues if I use it consistently. If your skin can tolerate it though, give it a shot as I think it's one of the best OTC retinol products out there.

Back
to top