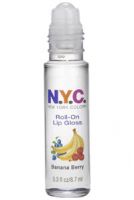 Cheapie

This is nothing more than a cheapie, quick fix, for a quick shine. Not a great lip gloss, runny, most of it ends up around your lips instead of on your lips. Good for little girls to play with since it's clear and inexpensive. No more than 5 stars and that's being generous!

ugh

Ball doesn't roll for one, it's got the thickness of water only it's sticky and while the gloss should glide across lips it's more like smearing it because the ball doesn't move and you have to push a little harder just to get the gloss out, so really you're dragging an almost dry ball across lips.

Terrible

This product is just so bad. I used to have it back in high school. It was sticky and it just did not feel good on my lips. Also, it made my lips so dry after it was gone. It did not taste good at all, it tasted kind of plastic or chemicals.

Back
to top