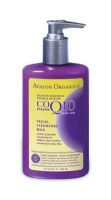 great for sensitive skin!

I used to use the Vitamin C face milk then for some reason got into a cycle of using some really bad cleansers. After really bad sensitive skin reactions, I used this after reading reviews. Have to say, it took a couple weeks to really get the full efffects, but after a couple months of using it, can say it's really paid off! My skin stopped breaking out, looks much more radiant now, and is no lon...read moreger red and dry as it was before. It smells like a really pretty herbal combination, like menthol and rosemary, and feels soothing on your skin. It is supposed to be a wrinke defense cream, i havent noticed any changes regarding wrinkles, but i will definitely keep using this or the Vitamin C cleanser, for sure. Very pleased

Fresh clean feel.

I love this product. It feels fresh and light. I see my face very clean after using this product; however, I do not recommend it for dry or cracked skin. This product has a tendency to sting for awhile after use. It stings a little if your skin is in good condition. If you can get past the sting, your face will appreciate you.

LOVE THIS PRODUCT!!!

I cannot say enough about this product. It is all natural and cruelty free. CoQ10 is one of the best anti-aging ingredients out there and this has lots of it! I use it mostly during the morning after waking up. If you have a hard time waking up in the morning, then get your bum off the bed, head straight to the bathroom and put this on your skin. It's got this minty feeling that instantly wak...read morees you up! One of the best things about this cleanser is that it isn't so harsh, making it ideal to use in the morning as our skin definitely does not need anything too harsh as it would in the evening when bacteria, dirt, and pollution have accumulated on our skin. It gently cleanses the skin and leaves it feeling soft and supple immediately after it is washed off. Definitely worth a try. Besides, it is relatively cheap -- I got mine for about 13 CAD.

Back
to top