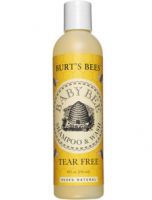 Editor's Rating & Review
Sensitive-skinned adults can use this as a wash, too -- and the tear-free claim is true. If you need bubbles to feel a product's working, you'll have to vigorously lather since it's free of sodium lauryl sulfate. Babies can use it as shampoo, but grown-ups wind up tangled. The wash has a nice, faint honey scent, but nothing smells more baby-ish than Johnson's.
Reviewed by Kristen on 10/04/2007

How we review products
Review subject

Smells delicious! It was nice to my little girls skin, and hair. I used it as well, and was happy with it. The first bottle I got at a baby shower, but I have purchased it myself ever since!

New moms love it

I'll sometimes put together a baby bee gift for my expecting friends and I'm always told that they love the shampoo and wash. It's gentle on the skin and the scent is sweet.

21 Best Soaps

Exclusively from the editors at Total Beauty

Get the Buying Guide to see these top-rated products!

Get it now »

Great Hair Feel

I really like this shampoo because it is made with natural ingredients for a clean and fresh scent and leaves my hair with a nice shine. It lathers up well and is gentle on my hair and scalp. I like that it doesn't feel heavy and it helps detangle my hair.

Back
to top