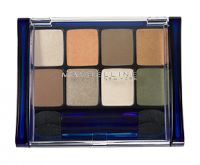 Good, Basic Shadows

These don't seem to have as much pigment as their "Sultry Smokes" quads or Color Tattoo, but I have this eight-pan tray in fall shadows which do apply very well, blend beautifully, and last a very long time, especially over a good primer. The finishes in the palette range from matte to shimmer, and there are some shades which are absolutely and truly gorgeous--like a gently gleaming copper and a luxe emerald green. This is a good value.

Eyeshadow palette

Like this palette. Colors are good and last if you use a primer. Shadows go on smoothly and blend well.

Great for travel

I took this with me when travelling around Europe for three months as I only could travel with one bag. I found that I tended to use only one or two colors in the palette, but that it was nice to have options. The wear on these shadows doesn't seem to be as long lasting as their quads. I also found that some of the lighter colors were chalky and less pigmented. Still, this is a nice piece to have in my bag, especially if I am going to do my make-up somewhere.

Back
to top