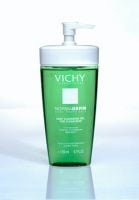 Review subject

A good Cleansing Gel although the price is too high perhaps. Cleans well and has a fresh, pleasant smell and leaves a smooth skin behind. It doesn't dissolve quick when mixed with water, you have to rub the face then it starts making bubbles which are a bit too much for a small quantity used. It is okay overall but maybe I wouldn't buy it again, being given the price. You can find same quality cheaper or a better product at same price :)

Good Product

I tried this after the sales lady at CVS recommended it. It is a simple foaming cleanser that cleans the skin without stripping or drying my skin. It didn't do anything for my acne but it seems that I don't have as many new breakouts as usual.

Great product for me!

This product, combined with other products from this line, helps me A LOT. It does get worse before it gets better, however, I can say it definitely works wonders on my acne. It is pricey, but it's the only product that did not make my condition worse. But beware, if I skip a day, my acne usually comes back. I would recommend this product.

Back
to top