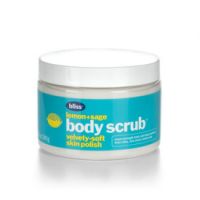 Smooth skin

This leaves my skin feeling really smooth. I endure the dry exfoliation though it leaves my skin red for an hour.

So Fresh, So Smooth!

A bit abrasive but the sent is so refreshing and it taught me a very important lesson: dry exfoliation is so much more effective when using scrubs. I do it with any scrub that I use now and it's just amazing. The effects are lasting. But this product is specifically is amazing and very refreshing. It really leaves the skin smooth provides a great spa experience...very calming yet refreshing scent....read more My only gripe is the price on this item, it's a little heavy and there are other scrubs that are just as good at a fraction of the price, so I'm not sure of the actual value on this item. I AM sure that it's a really great splurge and either way, you won't regret buying.

The Best!

I absolutely love this stuff. Yes it is on the expensive side, and you do have to scrub for quite a few minutes pre-shower, but the effort is worth it because your skin is as smooth as a baby's bottom when you get out of the shower. It definitely preps your skin to receive lotion afterwards. I got a sample of it with another purchase and ran right out to buy it. If you are not a slave to your beauty rituals, you won't enjoy the benefits of this awesome product.

Back
to top