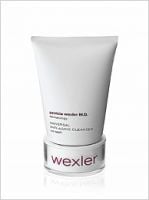 Nice

I don't think it's really age defying but it smells good and cleans really well.

I Don't Know About Its Anti-Aging Claims, But It Does Do A Decent Job At Cleansing The Face!

I feel that the product's anti-aging claims may be a bit overrated. Because, I didn't notice any real signs of that! Now, what I actually did notice is how well it cleansed my skin and still left my skin's moisture in tact.

DHC Cleansing Oil is better

If I am going to pay a lot more for a product, I expect it to work better. The DHCProduct costs less and works better. The Wexler product cleaned my face, but I don't feel it did all the things the DHC product did like making my skin softer, making it feel smoother, making it look brighter. The DHC product definitely doesn't overstep the skin and I felt this product did in the eye and nose area...read more. I agree that using less is definitely more with the Wexler product, but the cost of the DHC product is small, so I don't care if I slap it on!

Back
to top