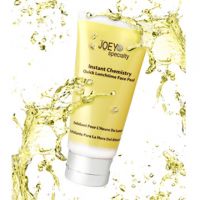 Joey New York Quick Lunchtime Face Peel
As low as
Joey's Masque Revives and Makes You Radiant

Need a quick pick-me-up? Going somewhere special and want your face to be your best asset? Try Joey New York's "Instant Chemistry Quick Lunchtime Face Peel." Oh, I miss Joey's line of "Pure Pores" products--one was better than the other! But this is equally good. Despite the name on the box, I wouldn't suggest using it during your lunch hour. You want to spend time appreciating the benefits o...read moref this nicely scented, pink gel masque. Apply a thin layer to a cleansed face and neck. Leave on for approximately fifteen minutes or until the masque is dry (I suggest trying to take a "power nap" as you do this to renew your spirit as well). This is a very soothing treatment which shouldn't leave you red or raw--just glowing, with a new clarity and radiance. Marine collagen and Prozymex HBT instantly minimize the look of fine lines and wrinkles. Joey's masque deep-cleans imbedded dirt and debris. Old, dead skin cells are exfoliated, exposing a new, lovely layer. Pores are minimized. In order to remove, begin to roll the masque off, starting from the neck and working up toward the forehead. For an added treat, use on backs of hands, elbows, and dry feet to refresh and revive. Those with sensitive skin may find this a little harsh and perhaps somewhat drying, but I find it simply comforting. Rinse very thoroughly once all of the masque is removed. You'll feel like a new woman (or man)!

This is my Go-To Product

I found this on sale and thought I would try this based on its claims. Oh my gosh, who would have thought that my skin (I am 40) could feel so soft and look so radiant? The biggest surprise was that somehow it really and truly made my facial lines diminsh. They aren't gone, but they are noticeably less prominent. Bottom line: WELL WORTH THE PRICE!

Back
to top