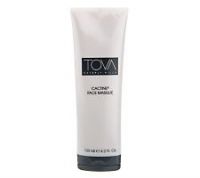 Tova Cactine Facial Masque
As low as
Take me away, Tova!

This masque always gave me a little pick me up with its tingly sensation, and it did wonders for my skin. After washing the masque away my skin felt soft and smooth and it looked like I had washed time away too. I also used it anytime I felt a little bump coming...I dabbed on a tiny bit of masque, let it dry, washed it off and the next morning that little bump was nowhere to be seen. Cactine is amazing!

Tova Cactine Mask Excellent For the lips!

This formula has been around for 20+ years. I was a little leery of buying it thinking it may be too old school, but I guess the saying if it's not broken don't fix it applies. For those of you who like masks that have that super hard tightening effect to the point you can't move your mouth like me, you must get this! I love a dramatic facial mask, gives me re ...read moreassurance that a product is working (although that theory could be completely wrong, it's just my way of thinking) It really pulls the impurities out of the skin, especially if you have stubborn blackheads. The best part about this mask is what it does to your lips! Apply it to the lips for about 10 mins. My lips have never felt so smooth and soft. I followed it up with my Lisa Hoffman Lip Moisturizer. I would tie this into your weekly routine but make sure you had some type of hydrating mask in your routine as well to balance moisture.

Tova Products

I have used Tova products and they are excellent!! They do exactly what the were advertised to do!! I recommend them!

Back
to top