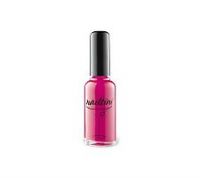 Long lasting

I received one of these in my ipsy bag for August. It took one coat to look exactly the shade of the bottle! It is comparable to Essie polish.

Awesome!!

I got the Nailtini 101 Parfait Amour, a light purple shade, in a total beauty box. One coat was really sheer, but after it dried I added a second coat and it is beautiful!! I normally don't wear shades like this but I will most definitely be wearing this color and look forward to trying more from this brand!!

Got This in Mai Tai (a coral-ish color)

I love this nail polish. I think it's my polish for the summer. It's a warm, coral-y color, so it's not super girly (like neon pink) but still feminine. I got this in my monthly Ipsy bag and at first, I was disappointed that I got it because I already have so many polishes and I'd never heard of the Nailtini brand, but this one really takes the cake for my collection of summer colors. It a...read morepplies smooth, the brush is long and the bristles are wide, so it only takes one and a half sweeps to cover the entire nail, and it's just quality polish. It lasts long and I haven't had much issues with it chipping too soon or anything like that. I found that one coat was enough for my nails, so the product will outlast some of my other polishes which require 2+ coats. This is the only Nailtini polish I've tried, but if the whole line is as good as this polish, it's definitely a brand worth trying.

Back
to top