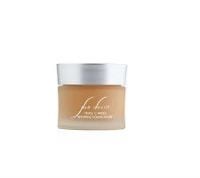 Sue Devitt Triple C-Weed Whipped Foundation
As low as
Don't waste your money

I was talked in to purchasing this from a sales girl. It was not as she described it to be. I did let her put it on before I purchased it and it seemed wonderful. As I have noticed if my eyes tear up or my face gets wet this product runs worse than mascara. It also fades away so quickly. This product is a complete waste of money. The coverage isn't great either.

This mu really disappointed me

I was really excited about ordering this mu. It looked great in the jar until I tried to apply it. Not matter what I used, be it fingers, various types of sponges, and taklon mu brush, this stuff would not blend properly. It dried on the skin before it could be blended evenly. It settled into my every pore, (and I don't have large pores) and it sticks to every tiny facial hair. Even though the sha...read morede matched was a great match to my skin, the mu was still very visible.It looked awful in natural,outdoor light. I tried it with different moisturisers, and with/without a primer, and with 2 different primers (Smashbox and Laura Mercier). Nothing made this stuff work! I really wanted to love it, b/c I ordered 2 shades! I have many different foundations, and I can usually make even a mediocre one work with the right application and underlayer. This one just really stumps me! Unless you can return it, please don't buy!