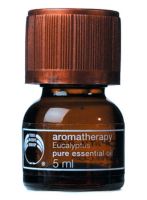 The Body Shop Eucalyptus Essential Oil
As low as
great aromatherapy

i love using a couple of drops with epsom salt to soak my achin dogs! so nice after a long hard week working! so relaxing.

Great for sinuses

I love The Body Shop's aromatherapy line. Come to think, I love just about any TBS product! This is a very good quality eucalyptus oil. I use it when my sinuses need degunking naturally. I drop a few drops and steam my face with a towel draped over my head. In about 10 minutes, I am clear as a bell and bonus, glowing, clear skin. It is very comforting when you are sick or need a quick pick-m...read moree-up. I've even been known to mix some with Epsom salts and olive oil for a nice long soak in the tub when I have a cold.

Amazing stuff, Love it!

Get a large bowl of warm water, add about 1 t. or this eucalyptus oil and 1 t. of tea tree oil. Dip your wash cloth into the water and wring out and apply to your face. Repeat 8-10 times. Helps with acne, and makes your skin SUPER soft! Also soak your feet with warm water, epsom salt and this eucalyptus, very relaxing and soothes sore feet.

Back
to top