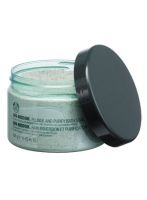 One of the best bath salts

This bath soak is very relaxing and purifying to your skin. I feel like I'm getting a spa treatment when I soak with these salts. A little pricey but great for those times in need of luxury at home.

The Body Shop Spa Wisdom Plunge & Purify Bath Soak

This is one of the nicest bath soaks for a sore, tired, cold body ever. After a long stressful day, I can't wait to come home and fill my tub up with this and just shut out the world. The fragrance is so relaxing as is the benefits of the ingredients. My skin feels great, and my mind eased, and my aches are gone for the rest of the day. This is the closet I have been to a spa without actually ...read moregoing to one. Just like all the other Spa Wisdom products, it is a lot of luxury in a little jar and worth every penny!

21 Best Soaps

Exclusively from the editors at Total Beauty

Get the Buying Guide to see these top-rated products!

Get it now »

Yummmyyy....

This makes a great foot soak also! I absolutely love the entire African Spa collection!!! Everyone should try it once!

Back
to top