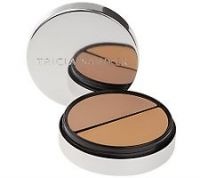 FANTASTIC coverage!

I want to note that the price for this that Total Beauty lists includes the brush - but you can just buy the foundation on it's own. The brush, though, is great too! This comes with two colors - one on the warmer side - and provides exceptional coverage without the "I'm obviously wearing foundation!" look. Very highly pigmented. I feel it goes on best when my skin is still moist from my spf moisturizer.

I've finally found the best foundation

I have been using another product that is very popular but I was having trouble with it settling into pores and making them look huge. I have been trying different products with no luck at all. That is until I tried Tricia Sawyer's Full Potential Cream Foundation. It is positively the absolute best foundation I have ever used. I am going to encourage everyone I know to use this product. Thank...read more you, thank you, thank you Trica!! The foundation goes onto your skin and makes it look flawless. I cannot say enough good things about it. Try it you won't be disappointed. In fact you will be telling everyone you know about it as well! Just make sure you get the brush that goes with it. It too is amazing!!

The very best foundation

I have been a professional makeup artist for the past 20 years and in my expert opinion, this is the very best foundation I have ever used. First, it is a dual product -- two in one if you will. A cool and warm tone that you mix to achieve the perfect match to your skin tone. It is also a buildable foundation -- highly pigmented so that you can control the amount of coverage. Also, I have been...read more able to skip the concealor with many of my clients because this foundation can cover a magnitude of sins!