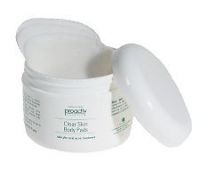 Proactiv Clear Zone Body Pads
Your joking right

What a crock of crap this product is. It only made my skin worse making it flaky and irritated like crazy. My skin became so dry and unmanageable to work with. It did the exact opposite of what it should do in my opinion. This product is some what expensive and a waste of money to me. i only ended breaking out more which caused even more lack of self confidence. There are so many harsh chemicals...read more in this acne treatment and i believe thats why it caused such a bad reaction to my skin. when i first started using it i broke out so bad and when i stopped using it i broke out again really bad. I can not believe they are advertising this to people who will first believe in it and then realize they are being cheated in to a bad deal and product . There is a harsh smell to it and it gave me a head ache. Just leave this product on shelf and walk away, do not let them feed you some bull crap because its only for their convince and money in their pay checks. There are way better products out there that are far more less expensive to your pocket. i really did not see any difference but only making my skin more dry causing not only flaky skin but causing more break outs . there is really nothing good about this acne pads. i felt the pads dried out too as i was using it everyday. I also felt the treatment did not absorb in to my skin and balled up and caused little balls of the product on my face. This also was horrible under make up and looked so un natural . It made my make up look crusty and caked up like i put a ton of make up on. I tried this with powder , liquid and cream based.

Itchy!!

These did not work at all! They are too thin and it made my skin itch like crazy. I would not recommend these to anyone.

Back
to top