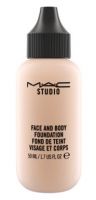 Almost like a Tinted Moisturizer

I got this product because I needed a foundation that was water resistant. It was long lasting, but it was very very sheer, almost like a tinted moisturizer. You have to shake it before use because if not, the water will seperate and when you go to pour it out it will be watery and not have much color. It did give a really nice finish, almost like an airbrushed look. I think its best used with eit...read moreher a duo fibre or stippling brush since the formula is not thick at all. Its a great foundation you can mix easily to get the right shade. It contains a whole lot of product so its a good value for your money, especially if you are going to be using this everyday. A little goes a long way with this one.

awesome

absolutely gorgeous and seamless foundation. theres not alot of coverage but i dont care. the natural look i get is worth it. **EDIT** this has become my holy grail. I always like to try new stuff but I always come back to this for the most beautiful finish. It's Dewey and even my boyfriend who doesn't know a thing about makeup asked if I was wearing face makeup because my skin looked flawless and completely natural. AMAZING!!

Great light alternative

Great for those days when your skin isn't acting up too much and you're looking good and you don't want to pile a heavier foundation on. The claims are true about it being water resistant too! Holds up really well- I even pulled my shirt over my head at the end of the day and didn't get makeup all over the collar.