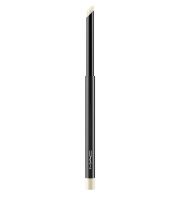 MAC Brow Finisher
Too waxy

This stuff lasted for ever, partly because I hardly used it. I was told this formula would have much stronger staying power than a brow powder but I found it very waxy on my brows. It didn't feel good. I have very light-colored brows and while this filled them in, I found it was not a consistent line. I went back to using powder with an angled brush instead, and finished it off with a clear mascara to hold hairs in place.

Perfectly Natural Brows...

Perfect product! I'm so upset it's been discontinued! It's easy to create natural looking brows with only a few strokes. It's waxy too so your brows stay in place, and the colors are light so they won't look fake. It's thicker than other brow pencils so no need to worry about pencil thin brows LOL. Best part no need to sharpen!!