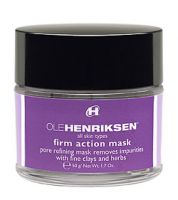 Ole Henriksen Firm Action Mask
As low as
Ole Makes a Superb Mask!

I grew up making my own homemade masks, and I think I did a good job. I would have occasional, usually cyclical, breakouts in my teen years into my twenties and even early thirties, and the oatmeal would exfoliate, "polish" my skin, and leave it like silk. Blemishes would begin to disappear without any harsh treatments. I'm glad that skin experts firmly believe in and promote the use of masks--...read morethey are wonderful in many ways. When you wear a mask, it's your time to close your eyes, relax, and just feel the goodness sink in--sort of like a "mini-vacation" away from the whirlwind taking place around you. And the benefits are manifold. I reap a lot of benefits from Ole Henriksen's "Firm Action Mask" ($16.00-$27.00 at the Henriksen site; congratulations, Ole, on offering a small "trial" size to customers before they make a major expenditure). Several months ago I began using their products. Although I love the skin care from many other companies such as Mary Kay, Lancome, and others, Ole leaves my complexion with a refinement and lucidity no other firm's products do. This mask is the ULTIMATE! It is formulated with Kaolin, the same clay used to create fine China. Kaolin absorbs impurities and excess oil. So does Dead Sea Salt (with the added benefit of lifting skin). Aloe Leaf Juice moisturizes, calms, and heals, while Calendula also works as a healing ingredient. Golden Seal Extract in an astringent, reducing inflammation and comforting. Echinacea, a form of the potent, miracle-working Vitamin C, strengthens the skin's outer layer. Another aspect is that this mask is for all complexion types. It has a pleasant smell. Henriksen suggests using two to three times weekly (make sure you work it into your routine at LEAST once). After cleansing, apply a generous layer to your face and neck, being sure to avoid the delicate eye area. Leave on for a full ten minutes, and then remove with plenty of water and a warm, wet cloth or sponge. Follow with a toner and your usual regimen--mine is a Henriksen serum and then a moisturizer. My skin is like marble after using this; it is clear, ultra-smooth, and pores are difficult to even see. I always use this before a special event, but it's good to get in the habit of using it regularly

wonderful mask

i love using this mask about once a week. first of all, it smells great, not medicinal like a lot of other masks. it's a pretty lavender color, goes on smooth & after about 20-30 minutes it firms up nicely and leaves your face feeling very soft.

Back
to top