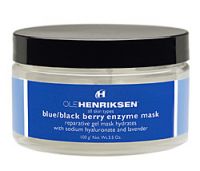 Ole Henriksen Blue Blackberry Enzyme Mask
As low as
Very effective at dissolving dead skin

Great exfoliator if you have dry sensitive skin or cannot use scrubs. This exfoliates without irritation. Leaves skin soft, smooth and hydrated.

Great Mask

I sit here writing this review as I have this mask on my face. I love, love, love this mask. At first I wasn't sure I was going to, because it was kind of hard to wipe off and I didn't see any immediate results. I was proved wrong when I woke up the next day with a new glow to my skin. I've always had problem skin (acne), so I am cautious when trying new products. This one didn't make me ...read morebreakout at all. It smells like lavender, which is so soothing ( I love this scent). It's very easy to apply, it is a very thick gel. The only thing I don't like is that you kind of have to scrub in order to get the mask completely off (it's pretty sticky). Once you apply it, your skin will immediately have a cold feeling, I love this part. That goes away after a few minutes though. I usually leave the mask on for 20-30 minutes and then rinse it off. You won't see immediate results, but my skin always looks so nice the day after I use this mask. I now use it 2-3 times a week and it's become a staple in my skincare routine….you can't go wrong with this one.

Feels amazing and smells wonderful

This mask is a very smooth light gel, and you can cover your face without using big globs of it, which is good because it is expensive. It smells great and feels nice on your face, unlike a heavy crusty mask. It rinses off very easily, and leaves skin feeling very soft and healthy and fresh. It does not work miracles as far as long-term results, but using it is a very pleasant experience that leav...read morees skin feeling great, and for me that's a big part of using a mask. If you are looking for a luxurious mask that is pleasant to use and gives you nice soft healthy skin, this is a good product. I will buy it again.

Back
to top