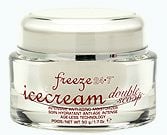 very moisturizing!

i like that this product left my skin so soft and smooth. i also noticed that i had fewer breakouts as well. i just wish that it wasnt so expensive!!

Correct Application is the Key

Again, the user who is getting cakey is not applying this product correctly. Follow the included usage directions and it works great. I signed up for automatic shipments of the products at the special TV Offer rate and only pay $100 for each shipment of the complete series of products every couple months. I use these products and get no flaking or caking at all. You have to use the correct application amount and follow the instructions.

cream of the crop

This moisturizer is great. It hydrates skin wonderfully and isn't greasy or clumpy. A little goes a long way. It works wonders on wrinkles. If you have oily skin you might want to use this as a winter moisturizer....dry skin- it works fine any season. It gives good coverage all day. It's a great value for the price. As stated above, a little goes a long way. When used with the anti-wrinkle cream y...read moreou should only use sparingly and follow the directions. So.....only use a little. It's all you need for fabulous results anyway.

Back
to top