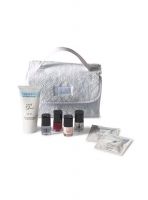 Lippmann Collection Material Girl Nail Essentials Set
As low as
Editor's Rating & Review
Lippmann Collection Material Girl is a great value considering its contents would cost a lot more if bought separately. Deluxe minis of Sarah Smile (sheer pink polish), My Old Flame (classic red), nail hardener and cuticle oil, with a full-size Rich Girl hand and cuticle cream and three lavender-scented Stripper polish remover "mitts," are a great intro to the luxury brand. The plush, roomy bag, adorned with a functional mini nail file, is perfect for organizing and travel. My only complaints: no base and top coats, and one Stripper mitt isn't always enough to remove 10 digits of polish.
Reviewed by Charli on 11/24/2008

How we review products
nice

the cuticle oil and polish are super!..great complete kit!

SOMETHING YOU JUST HAVE TO GET

This nail essential kit is the greatest kit of all time. nail polish is superb and it comes a cute pouch. definetly not a waste of money!

Good products, weird case

I just picked this up and so far I'm pretty impressed. The cuticle oil in particular is a star. It is actually not greasy and made my nails look hydrated and beautiful as soon as I slapped it on there. The Rich Girl hand cream is also very nice and I'll definitely be saving the Stripper-To-Go pads for my next airplane trip. It also comes with two polishes in basic colors, a very pretty pale pink...read more and a true red that is hard to beat. My only complaint is that the case is a little funky. I'm not quite sure how useful it is, but I'm willing to give it a try.

Back
to top