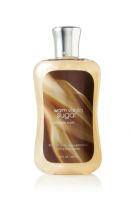 LOVE IT!

Gives you lots of bubbles, smells nice and fills the room pleasantly. Reasonably priced, especially when on sale. I love how many scent options there are too! I'll definitely be repurchasing this. Its a great product.

Not great

These bubbles are great to have around, but I wouldn't say they are my favorite. It's really fun that they come in so many different scents and that you can match your bubble bath scent to your shower gel, lotion, etc. but I've never had bubbles from this brand that ever lasted very long in my bath, nor does it make many bubbles to start with. The fragrance is great and I love how long that lasts,...read more but I can get that from using the shower gel, I don't need a separate product for bubbles if there won't be many bubbles and they aren't going to last. My skin didn't feel soft and moisturized after a bath in these bubbles, either. May as well use the shower gel and the lotion to enjoy your favorite scents from this brand and use something else for your bubbles!

21 Best Soaps

Exclusively from the editors at Total Beauty

Get the Buying Guide to see these top-rated products!

Get it now »

love it want it have to have it

I love this stuff, really Plumeria (or however you spell it) smells awesome, and the scent lasts on your skin so you get out of the tub smelling awesome. Also I notice with a lot of bubble bath I use, they leave behind a weird oil on your skin but not this. Plus the bubbles last a decent amount of time, though like most bubble bath, not forever.

Back
to top