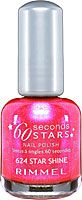 Review subject

This product is fast drying, and comes in a gorgeous plethera of colors. This was a great product, and a great price.

Rimmel 60 Second Vinyl Stars

This is one of the absolute BEST polish brands you can purchase inexpensively. These colors wear really well, some can go 3 weeks without so much as chipping or fading. I own a lot of these colors and I love them all. Rimmel is always a safe polish bet and they've got some really unique, fun colors. Don't hesitate here, buy the colors you like and enjoy them.

Fantastic

Cheap price. Dries quick stays on forever. Tons of pretty shades. Great value, compaired to other brands. I love their polishes.

Back
to top