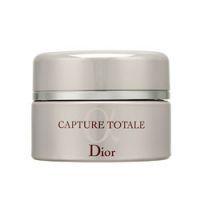 Best moisturizer on the market!

This product is amazing! Has so much hydration in it as well as a patented ingredient in it 4x more effective than vitamin c, so it really helps to brighten the skin as well! Defiantly worth the price! You will see results in as little as 3 weeks! I would recommend this to any one! They also reformulated it so it is now whipped so it is not as thick going on your face.

Expensive but worth every penny !

After many years of searching for a great ani-aging skincare line I have found it in Dior! The Capture Totale line is fantastic it actually does what is says it will. I noticed a difference after a few uses and now actually see better and better results with reduction of wrinkles and softening of age spots with continued use! The best!

Capture totale

I started using Capture Totale 3 years ago. It is undeniably the best anti-aging moisturizing cream I have ever used. Within a week my skin was softer and silkier. Within a month or so my skin was much firmer. The nasal lines by my lips, cheeks, and mouth were lifted. My skin tone is much more even. This is an expensive product but I will gladly spend the money to keep these results.

Back
to top