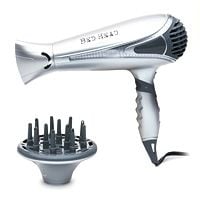 the best hair of my life

i have had this hair dryer for over a year now and it still works amazingly well. i've actually dropped it a few times it came apart a little bit, but it still functions fully! there are many settings on this dryer so you can customize your look. positive ions for volume, negative ions for shine and quick drying, high heat, low heat. i love using the negative ion setting. my hair dries VERY quick ...read moreand with lots of shine! the nozzle attachment is also a life saver!the diffuser is really great too. i've gotten so many complements on my curls because of it! i just LOVE this dryer. i has changed my hair's life for the better. i have never gone this long with no split ends from all the heat and its because of the shine adding properties in this dryer. if you love your hair, get this! oh an i also got it on amazong for 17 dollars instead of its 70 dollar retail price. steal!

Love This!

I love this hair dryer! And so does my hair!

Good!

I thought this dryer was very effective and lived up to its publicity. But personally, I prefer the Karmin Salon Pro Professional hair dryer as it dries much faster and my hair just feels healthier.

Back
to top