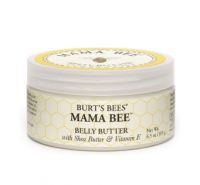 Yummy!

This smells divine, and it thick and luscious. Great for elbows, skin, what ever!

Love it!

It has done wonders on my skin. I'm 6 months pregnant with my second, and so far I have not added to the stretch marks I got from my son. It lasts all day, unlike a lot of belly creams.

MAMA BEE IS PRETTY GOOD

THE PRODUCT FORMULA IS NICE AND RICH. I AM PREGNANT RIGHT NOW AND WAS LUCKY ENOUGH NOT TO GET STRETCH MARKS THE LAST TIME. HOPEFULLY, THIS WILL HELP ENSURE THAT DOESN'T HAPPEN THIS TIME AROUND. THE SMELL IS WONDERFUL AND IT LASTS FOR AT LEAST 24 HOURS. IT'S A LITTLE PRICEY BUT MOISTURIZES GREAT!

Back
to top