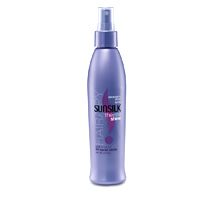 Extra Shine

I bought it to use as detangler initially, but it turns out to be this spray works better as extra shine spray. I have long straight hair, well almost straight. I apply this spray right before I use a hair dryer or when my hair gets frizzy and looks a bit dull. This spray definitely adds extra shine, makes my hair easier to comb and style, and also leaves subtle refreshing scent. I have a feeling...read more that somewhat this helps to protect hair from heat damage caused by flat iron. Anyway, it's well worth the money, but it is very hard to find.

better than Biolage shine milk

Excellent product and excellent price! If I use a regular conditioner in the shower, I have to soap up and wash my face and body afterwards to prevent breakouts. With this product, I can skip conditioners in the shower, spray this onto damp hair all over, and it conditions and detangles my hair just as well. I save so much time!

This Little Spray of Mine, It's Going To Let Me Shine

I've used heat protectors before only to find myself tossing it out or leaving it in my bathroom drawers and then disposing them when I seriously need to organize. They've left my hair feeling crispy, stiff, and some left white residue. I have never really needed detangler but I've found that they are a good, light version of a leave in conditioner without weighing hair down or interfering with s...read moretyling. Pantene's detangler was what I was using and a separate shine serum but I've found with blow drying, this is the best styling tool for getting rid of some frizz, detangling, smoothing, and sets my hair with a natural sheen of shine. I like extra shine so I still pat my hair with a bit of serum or a fine mist of shine spray and it looks lovely after I've fixed my hair. The scent doesn't smell of anything particular but it is mild and pleasing. The best part of this spray is that it isn't sticky at all. It makes hair manageable without any extra issues to deal with afterwards. And price? Well worth it and it still is within your budget bracket, ideal even if you are using high end salon products, this outperformed a couple of mine personally.

Back
to top