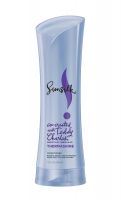 Thought I was going crazy...

I could have sworn this was thermasilk! I loved that brand. This is an OK substitute for it though, while it makes my hair shiny I noticed that it's not very hydrating, not a great conditioner but it makes my hair feel great after blow drying as opposed to the normal dried out feeling I get from the heat.

SUNSILK THERMASHINE CONDITIONER

I love Sunsilk!! My hair is very damaged, frizzed, dried out and curly..So it takes a VERY strong product to help my hair, and this was just one of those products and I just didn't tell a big difference, I've tried almost every product for damaged frizz control hair and this one just didn't do it for me.. :(

My #1 pick

I have fine, blonde hair, but lots of it and I wash and blow dry every day. I have recently jumped around using shampoo/conditioner from John Frieda, Pantene, Neutrogena, Organix, Dove, but NONE of those products have done even half of the work of this one. On my first use I noticed a difference in the texture of my hair, it was soft, smooth and very silky. My hair was definitely shiny and felt ...read morenicely hydrated! I have no fly aways or frizz, it works wonders with my hair dryer. My hair looks and actually feels healthy! I highly recommend this to anyone to try if your current line isn't doing what you want. You will NOT be sorry - I wasn't!

Back
to top