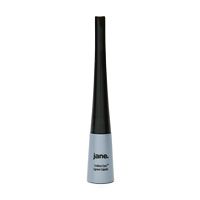 Terrible and bad

Runny, stings the eyes. I would never use this awful product again.

Huh?

No way, this stuff is messy, ugly and pretty much worthless. First of all it's so hard to apply, it goes all over the eye and takes forever to dry. Not to mention it smears and sure doesn't last more then an hour if ANYTHING touches your eye. I took a sweater off three hours after applying this and guess where the liner ended up? No not just all over my eyes, but as a nice long streak on my sweater. Save money on your trash bill and avoid this.

DARK FATE

ok. im goth, so i bought this [1.32$!] liquid liner because of the shade name, 'dark fate'. lol. the brush sucks, and the formula isnt the long lasting miracle it claims to be. obvious flaws for a cheap product youd expect that tho. BUT, and this I HAVE TO SAY, this is BY FAR the darkest, blackest, matte'est liquid liner, or ANY type of liner i have EVER owned. it is like no other, a curse, a ligh...read moret absorbing black void you sweep on your eyes and defy the laws of spectral expectation. there is no other liner this rach and deep and DARK. dark fate indeed. be warned, i am told its been discontinued.

Back
to top