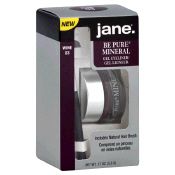 Great, especially for a drugstore gel liner!

A decent product at a decent price. Jane's was the first gel/cream eyeliner I'd ever tried and it got me hooked on gel/cream eyeliner! PROS: The brush head is nice, didn't shed bristles. Smooth formula, not grainy. Nice color (Navy) and pigmentation. Decent length of wear. Didn't cause eye irritation. CONS: The brush handle is a little small! Product began drying out sooner than I'd like (slowly ...read morebegan to dry out/get thicker). Product could stand to be a little creamier. Does require you to clean your brush after nearly every application. Although I did toss it in the trash before it completely dried out, I would be willing to try this product again! I've just purchased Stila's smudgepot trio and like them a lot too, but not sure if I like them enough to pay a lot of money for them, since Jane's are so cheap!

The best eyeliner out there...LUV LUVLUV IT!!

Great price, Goes on super smooth. Easiest eyeliner out there. The black it way to dark for me. I had to go with brown.

Does what it should

Good pigmentation, goes on smoothly, super easy to apply, lasts all day, doesn't run or smudge easily. Great price also.

Back
to top