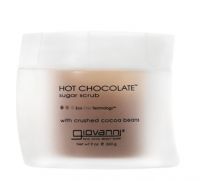 Editor's Rating & Review
Mmm. This brownie mix-scented, essential oil-infused scrub leaves skin moist -- without turning your tub into a Slip 'n Slide. What a treat. We're just bummed that it's labeled somewhat misleadingly as organic when it isn't. (It does contain two certified organic ingredients.) Compared to true 100 percent organic scrubs, it can't measure up. But against non-natural products? It's a standout star for sloughing off dead skin, and the cocoa scent fades perfectly as you dry.
Reviewed by Kristen on 10/04/2007

How we review products
AWESOME. My favorite sugar scrub of all time.

PROS: Smells delicious, like brownie batter. The texture is unusual for a scrub--it feels kind of gel-like, with the scrubby particles suspended in it. The little bits are just the right size, and not too scratchy. The packaging looks nice, and it's fairly affordable. Most importantly, it leaves my skin SO INCREDIBLY SOFT. Even my boyfriend likes it! CONS: The jar is hollow, so it takes up more space than it would if it were just a regular jar.

Super Scented Exfoliant

This body scrub smells great, like the taste of fresh brownies and works well on removing dead skin and making your skin look soft. This scrub I can use everyday and keeps your skin clean and clear with a fresh scent.

Smell is wonderful

This is a delight to your face. Scent is delicious as the product.

Back
to top